Dr. Cornwell ,D.C. uses the Erchonia Cold Laser, also referred to as low level laser therapy, which is the first laser to receive FDA approval for the treatment of chronic pain and carpal tunnel syndrome. The Erchonia Cold Laser is used and endorsed by Lance Armstrong, six time Tour de France winner, and is utilized by a number of professional sports organizations. The Erchonia Cold Laser can be used in conjunction with spinal manipulation and other therapies, or it can be used as the primary treatment.
Low level laser therapy can be used in the treatment of the following conditions:
Carpal Tunnel Syndrome, Tennis Elbow, Golfer's Elbow, Plantar Fasciitis, Bursitis, and other inflammatory conditions

Sprains, strains, trigger points, contusions, muscle ruptures, and other muscle and tendon disorders

Chronic pain associated with the neck, mid back, low back, and fibromyalgia

Arthritis and other joint conditions

Neuropathies, headaches, and other neurological conditions or disorders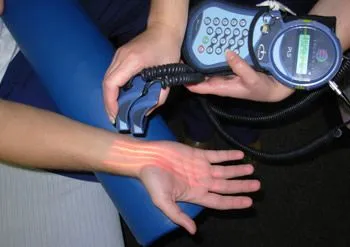 Cold Laser Therapy is a painless, non-invasive treatment. Each treatment ranges anywhere from a few minutes to 30 minutes, depending on the nature of the condition. Regular treatments are ideal for proper treatment and healing. The number of treatments varies with each condition. Low level laser therapy is considered to be one of the safest treatments available today. This treatment is covered by some insurance plans.
Call to schedule your appointment with Dr. Cornwell ,D.C.
405-330-2400
For more information, visit www.erchonia.com